Home
De bemanning
In de media
Doopceel en meer ...
Gate Project


Foto's en reisverslagen:
Las Palmas
Dakar
Saõ Vincente
Paramaribo
Barbados
Trinidad
Op zee
Tenerife
etc. volgen.



Contact

Copyright




Hr.Ms. Onversaagd (A854) in 1974

Doopceel en meer.......
Op een van de gangen hing een "plaquette"* met daarop volgende informatie:


Hr.Ms. Onversaagd - A854 (ex AM 480 - ex M 884)
Gebouwd door:
Astoria Marine Construction Co te Astoria - Oregon - USA
Mach. kamer inst. geleverd door:
General Motor Corporation
Dieselengine Division
te Cleveland - Ohio - USA
Kiel gelegd:

24 sep. 1952
Te water gelaten:

4 nov. 1953
Eerste maal in dienst gesteld:

27 mei 1954
Data uit en in dienststelling:
27 mei 1954
Seattle USA
Overname USA
24 jan. 1955
Den Helder
Uit dienst
30 mrt. 1955
Den Helder
In conservatie
15 jun. 1971
Vlissingen
In conservatie
26 sep. 1972
Den Helder
In conservatie (voor deconserveren)
26 sep. 1972 tot 06 apr. 1973
Den Helder
Verbouwing tot hydrografisch opnemingsvaartuig (RW)
06 apr. 1973
Den Helder
In dienst gesteld



* Of was het toch een A4'tje in een plastic hoesje? Ik weet 't niet meer.

De volgende informatie komt van NavSource Naval History (www.navsource.org)

Laid down 24 September 1952 as AM-480 by the Astoria Marine Construction Co., Astoria, OR;
Launched 11 April 1953;
Sponsored by Mrs. R. Wilhelm, Jr.;
Completed 19 May 1954;
Transferred to the Netherlands 27 May 1954 as Onversaagd (M 884);
Reclassified by U. S. Navy as an Ocean Minesweeper MSO-480, 7 February 1955;
Reclassified as an Auxiliary A-854;
Scrapped 31 July 1979.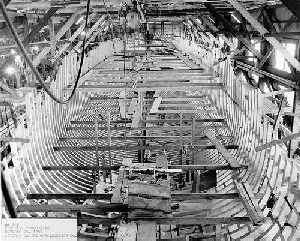 AM 480 under construction, October 25, 1952



MSO (MINESWEEPERS OCEAN)
A total of 101 ships were built: Sixty-five were built for the United States and 36 were built for foreign governments, one ship was cancelled.
These new ships were first designated as Minesweepers (AM); they were later reclassified on February 7, 1955 as Minesweeper, Ocean (MSO).

AMCCO's contract was for about $2,000,000 per ship, but the value of the special Navy furnished non-magnetic equipment was another $3,000,000.

Specifications:
Displacement 750 t.;
Length 171';
Beam 35';
Draft 10' 4";
Speed 15 kts;
Complement 39;
(Armament, one 40-mm and two .50 cal. machine guns; )
Propulsion General Motors 1,600shp diesel enginess, two shafts.